Fishing Report
from the Ebb Tide II - Montauk Point, Long Island, NY
7/25/21 PM
So far this summer it seems Mother Nature is exacting revenge on us every weekend. But when you have Captain Jake at the helm, being confined to the bay in 20-25 knot winds only means the boys have to fillet faster on the short ride home. We had a great afternoon of fluking for a hearty crew. Nicole had a 3lber. Fred had a 4.25. Joe returned and had a pair but cousin Ramsen took the pool with a 5.4lb stud. Come out tomorrow at 8am and 1pm if you want to witness Captain Jakes magic first hand!
---
7/25/21 AM
Captain Jake reports another great morning of fishing. Joe took took honors with 3 keepers and the pool with a 5lber. Mike and Ray had a bucket of sea bass. Bobby had a nice fattie. Little Ant got to fish and had three to 4lbs. FISHING IS HOT ON THE TIDE!
---
7/24/21 PM
Captain Jake's report is starting to sound like a broken record! This afternoons trip almost mirrored the morning trip except we had a bigger pool fish caught by Sir William of Montauk at 6.5lbs. Willy also limited in the first hour. Big Steve had two(sorry Frank). The lovely Leah had two and a a 5ft sand shark. Little Ant got the afternoon off and had two to 4.5lbs. Kevin the beast slayer had two as well. We had a decent amount of Seabass again.
---
7/24/21 AM
Captain Jake reports a great morning of fishing. We had keeper fluke on every drift and a smattering of sea bass as well. We had a a couple in the high 3 low 4's and one pushing 5lbs. Pool winner was Jack with a 6.3lber. Way to go!!
---
7/23/21
Friday's Ebb Tide II report from the desk of Captain Jake was another solid day of fishing and catching Montauk's summer bounty. On the morning trip the first drop had three keeper fluke almost immediately. We picked away the rest of the trip, but no one bested Danny's 6.8lb doormat. On the afternoon trip we whacked 'em. Once again Peter was hot but was outdueled by handsome Frank who took the pool. Fred added another after he had one on the am trip. The beautiful Orosz family had 2 keepers and a mess of Seabass. Tanya had a nice afternoon with fluke Seabass and scup.
---
7/22/21 PM
Captain Jake reports the Eastern Anglers Fishing Club afternoon trip was nothing short of a bail job from start to finish. It wasn't just good fluke fishing, the beasts were biting and the beast slayer had us on the fish the entire trip. Over 50 keeper fluke with 10 over 5lbs and a full boat limit of Seabass. Wayne, as previously reported, had two absolute slobs at 10.12 and 7.99. He also limited easily. Dave had a 7lber and his limit. Too many limits to mention and too many 4-5lb fish to talk about so check out the pics. Johnny, Ant and Little Ant would like to thank the boys for challenging our knife skills!!!
---
7/22/21 AM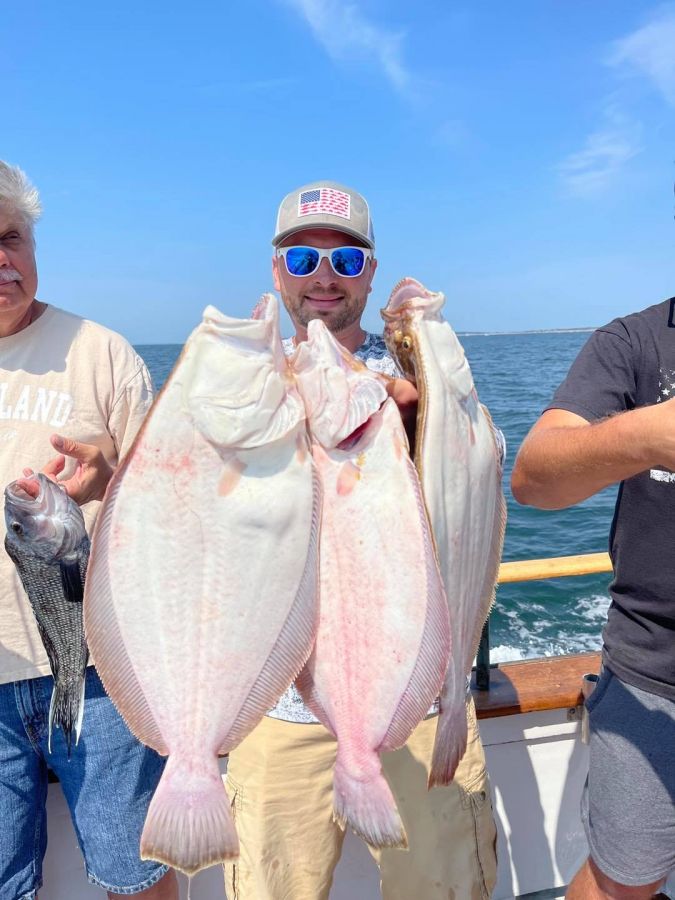 Capt Jake reports another great family fishing trip. Loads of big black Seabass and a good amount of keeper fluke. Ed from Smithtown not only took the pool but had 3 keepers. Check out these happy families who caught the vibe on the 'Tide!
---
7/21/21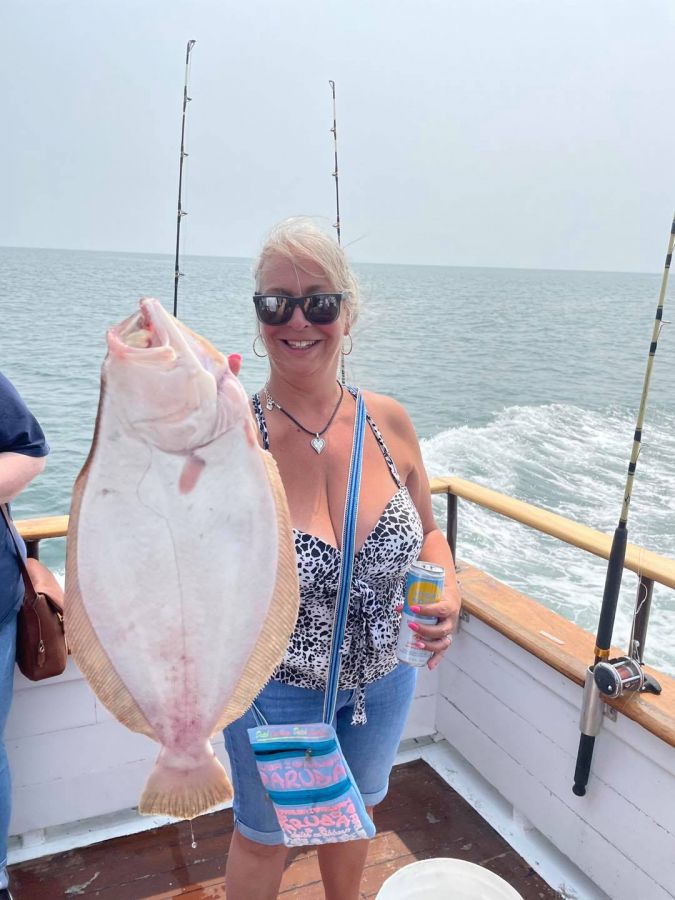 Holy Mackerel did we have a fishing trip today. Capt Jake reports a full trip of rod bending action from start to finish. It wasn't the best of fluke trips but a pretty darn good Sea Bass trip. Between the seabass and macks it was tough even keeping baits on the hook. We had about 100 sea bass and about 200 mackerel. A bunch of fluke came up short with the exception of Marianne who landed a 3lber. Katie took the sea bass pool with a 4lber. In fact Katie and her beautiful family had about 6lbs of sweet filet. Great job to all the wonderful families who took a ride on the 'Tide.
---
7/20/21
Sometimes pictures speak louder than words. But for those who look at the reports for words from Captain Jake, all he said was , "Fishing was pretty good today huh?" Pretty good Captain Jake? No, fishing was insane. We've had over 70 keepers in the last three trips. Majority ranging between 3-4lbs with quite a few over 5lbs. Highlights were Billy who had 7 this afternoon (orl) and split the pool with Tom at 5.75lbs. Birthday girl Janey had 2 keeper candles on her cake! On the AM trip, Danny took the pool with a 4.4lber. Buckets were stuffed with knothead Seabass as well. Some families had over 10lbs of filet to go home with. Check out the pics of the happy Ebb Tide families that caught both fish and the vibe while riding with the 'Tide!!
---
7/19/21 AM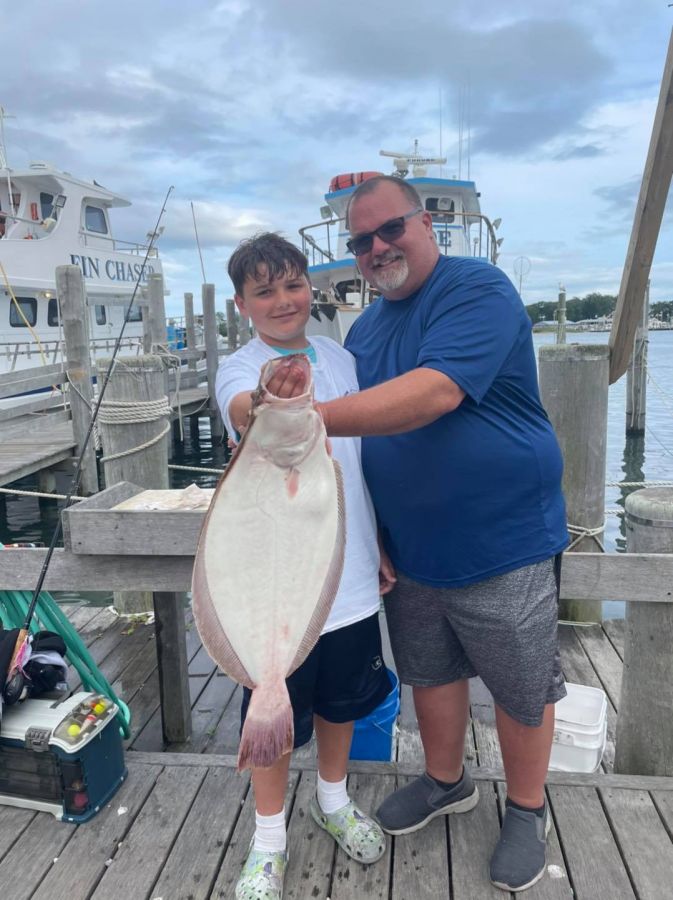 Captain Jake reports another rockin afternoon of half day fluking. The bite was red hot once again. Captain Danny came back out again and once again crushed it with 3 keepers to 5lbs. Tho Handsome Sam bested that with a 5.5lber. Steven came back again from the am trip and added to his fluke catch along with beauty sea bass. Felix and family had a bucket overflowing, Janey had a pair of fat fluke. But the icing on the cake was the father and son tandem of Steve and Matthew. Matthew hooked into a mollywhopper and Dad Steve helped reel in the 7lb 1/2 oz Doormat. Sorry Steve, Matt hooked it so he gets the Lucky 7 contest prize! Another great day of family and friends sharing the vibe as they ride on 'The Tide!'
---
7/18/21 PM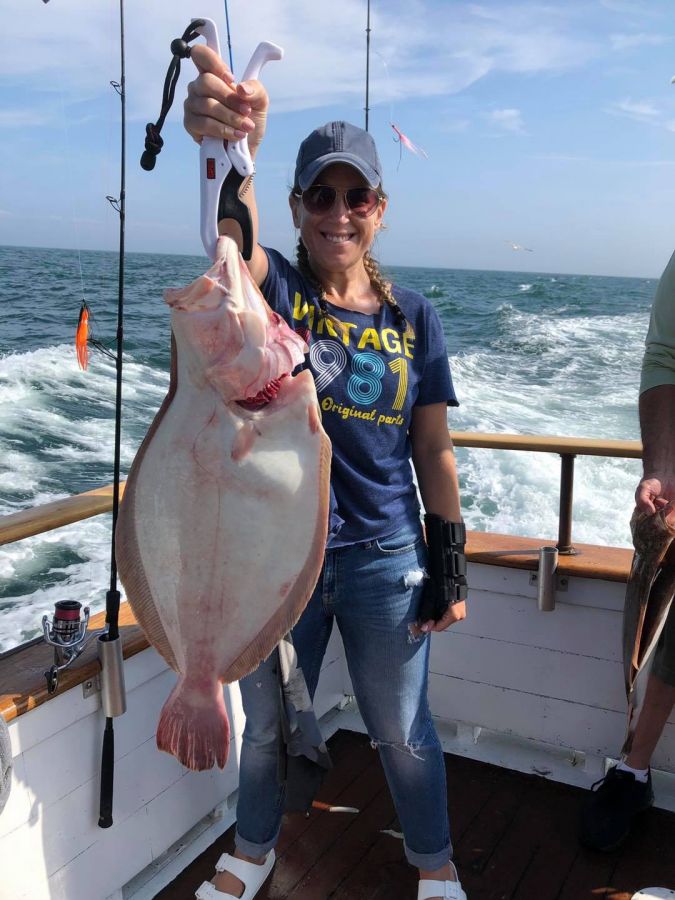 Captain Jake took our half day crowd offshore and by far the best fluke trip of the year for the Ebb Tide II. Tallying over 20 keepers, multiple limits of both fluke and sea bass, a jumping thresher shark and an unknown species of toothed pelagic that bit a jumbo sea bass leaving only its head, we had quite a fishing trip. Handsome Frank was the first to limit to 4lbs, easy task when you catch two at a time. Kudos to Little Ant on that net job! Ron the Mechanic had a pair to 4, Jane also added two, Joe, skunked on the am trip was rewarded with about 10lbs of filet. Tiffany from Oceanside took the pool with a mollywhopper at 6.4lbs.
---
7/18/21 AM
Capt Jake reports an okay morning with a poor drift. We tried to make the best of it landing two keeper fluke, some sea bass, and some porgies, plus a surprise trigger fish bit the line and was successfully landed. The pool winner was Bill from Lynbrook NY. Fluke pictured with this lovely young lady!
---
7/17/21 PM
Capt Jake reports the warm weather had the fish feeding this afternoon. All left the boat happy and ready to eat some fish. Multiple jumbo sea bass up to 3.5lbs and multiple customers being close to a limit of fluke one of which was our pool winner john from sag harbor NY who landed three keeper fluke. John also joined the Lucky 7's Club with his pool winner today!
---
7/17/21 AM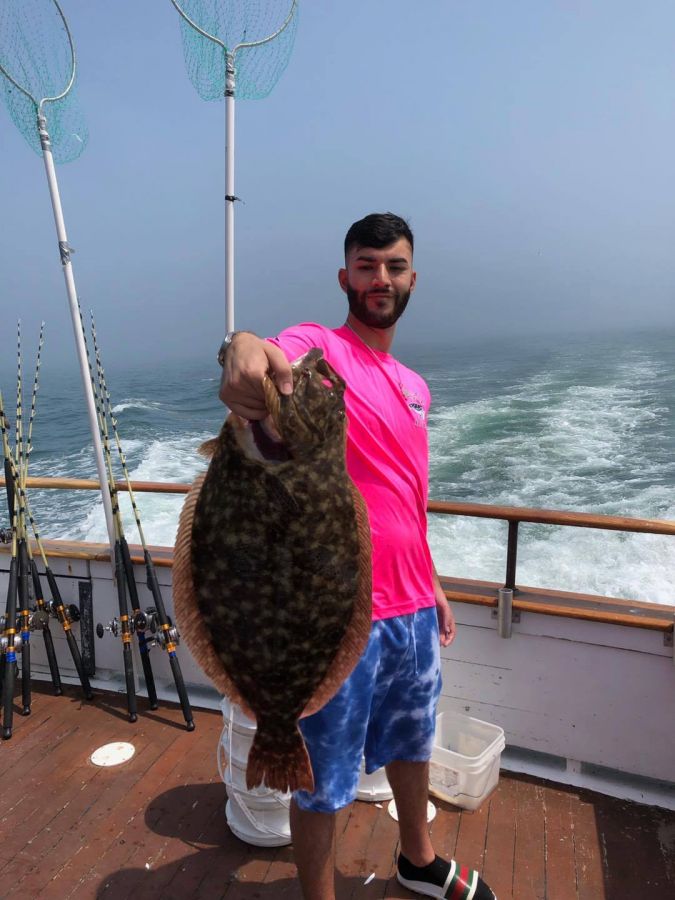 Capt. Jake reports a hot and foggy morning. With plenty of seabass to fill the pails and fluke up to 6.77lbs. We had a special appearance from some dolphins on the trip back in. The pool winner was Danny from Medford, NY with a beautiful fluke
---
7/16/21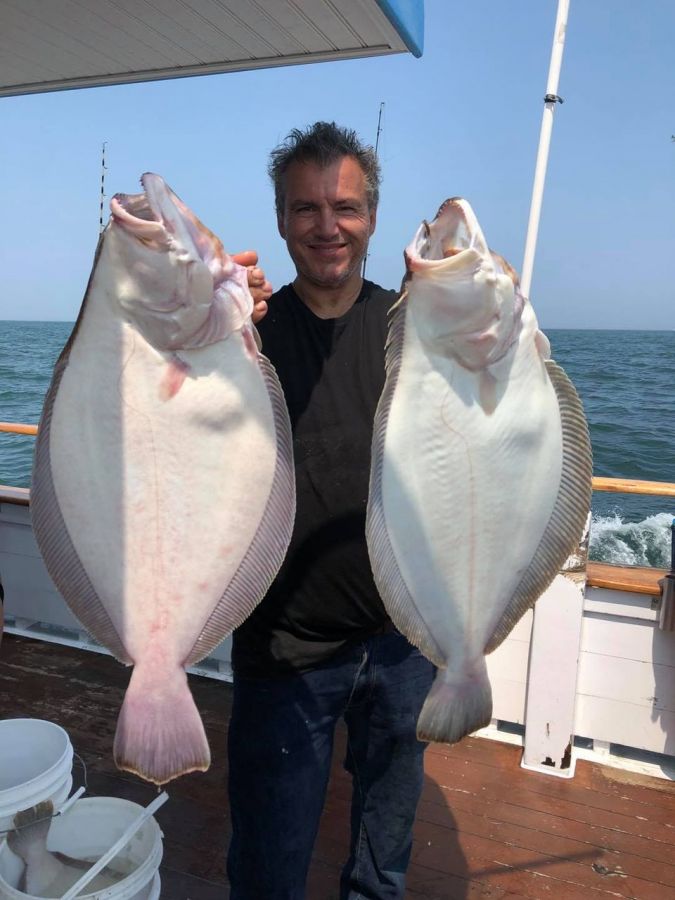 Captain Jake reports another trip with a few studs over the 4lb mark this morning. Peter from Chappaqua took the pool with a 5.7lber and Janey from Montauk took second place with a 5.0lb slob. Peter also nailed a 4.5. Thick keeper fluke were scattered around the boat and buckets were loaded with Seabass as well. Christine did a fine job sharking as she landed a 12lb cape shark.
---
7/15/21 SUNSET
Finally we had the weather to sail our sunset fishing trip and with a great bunch of families and friends, the fishing and the sunset did not disappoint. Peter from Islandia took the pool with a jumbo sea bass. Most buckets were filled with biscuits as they were jumping on the hooks. Plenty of short fluke also kept the rods bending. Pics tell the story
---
7/15/21 PM
Captain Jake reports a stellar afternoon of fishing. Sea bass up to 3.5lbs and fluke hitting 10lbs. That's right, another double digit monster aboard 'The Tide'! Pat took the pool with his absolute Doormat of a 10lber, joining Kevin the Fluke Slayer in our Double Digit Club. And as a club member, Pat fishes for free the rest of the month. But that's not all! He also added a 7lber to his bucket, making him yet another Lucky 7's Winner and the proud owner of an Ebb Tide T-Shirt (pictured below). All on his last day of vacation too! Congratulations Pat on breaking the record of most contests won on one trip!
---
7/15/21 AM
Captain Jake reports a standout morning with buckets full of jumbo sea bass and fluke. The sea bass were feeding early this morning and as they slowed down, the fluke began to to chew. The pool winners this morning were Dan from New Jersey with a 4.6 lb fluke for second place and for first place… Dorothy from Goshen NY with a beautiful 7.7lb fluke!! That makes Dorothy the third Lucky 7's Winner! Will you be the next? Join our mailing list and head on out to catch a ride on 'The Tide' this weekend!
---
7/14/21
Capt Jake reports a morning full of happy families. Everyone left the boat with bags of sea bass and some with a few filets of fluke. The pool came down to the last drift the first place fish caught by Ann of Hicksville at 4.3lbs and the second place fish caught by Jane from Montauk at 3lbs. This afternoon was non-stop action. We picked through the sea bass and found jumbos and a couple of keeper fluke. The pool winner was Tony from East Rockaway. Young Felix felt like giving up all trip because he couldn't get a keeper. That was until our final drift when he landed a 4.6 lb fluke! Way to go on scoring the biggest fluke of the day!
---
7/13/21
Capt Jake reports another November weather day in July, but another day of hearty families catching meals and then some on the Ebb Tide II!! In the morning we had a nice showing of keeper fluke and a generous mix of jumbo Seabass. 9 year old Will from Bayville took the pool with a 2.7 lber. Tom Jr and Tom Sr added keeper flatties and the family filled a bucket of biscuits. On the afternoon trip we had a Lucky 7's Contest Winner!! Congrats to Shaun from Bohemia who weighed in a 7.36 Doormat!! See you again Shaun on your free trips!! The boys in the bow filled a bucket Jumbos as did most families on the boat.
---
6/6/21
Captain Jake reports an improvement in size on the fluke grounds this morning but a less than stellar volume. All in all we managed a keeper a customer with a few blues and sea bass in the mix. The afternoon however was a typical Montauk springtime bloodbath. Fluking was slow at the light, but everything else was chewing with voracity. We switched to jigs and bailed blues stripers porgys and sea bass. To top it off on the last drift Sally nailed this beauty fluke to take the pool.
---
6/5/21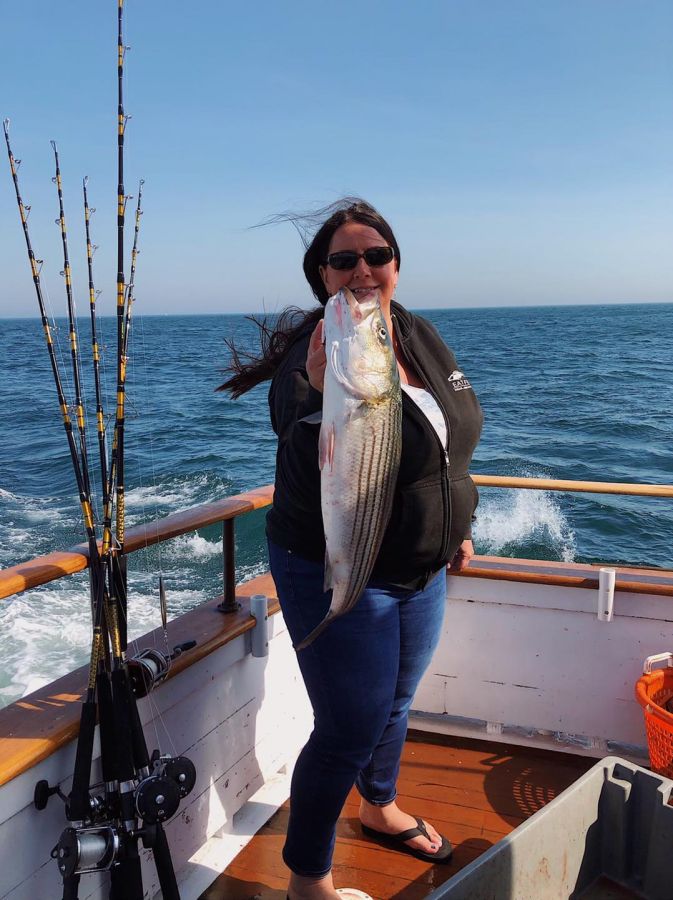 Captain Jake reports a tale of two trips. The morning trip the wind came up a bit earlier than expected and built a pretty stiff se swell. We managed about 30 shorts and a couple of keepers but nothing over 20 inches. In the afternoon we were flying down the beach with the wind and tide together. Terri Coleman managed a keeper which took the pool but Captain Jake had seen enough of mother nature's havoc so he changed plans and went to the light where we bailed Striped Bass, Blues and Jumbo Porgys on jigs for the remainder of the trip. Everyone got in on the action.
---
5/27/21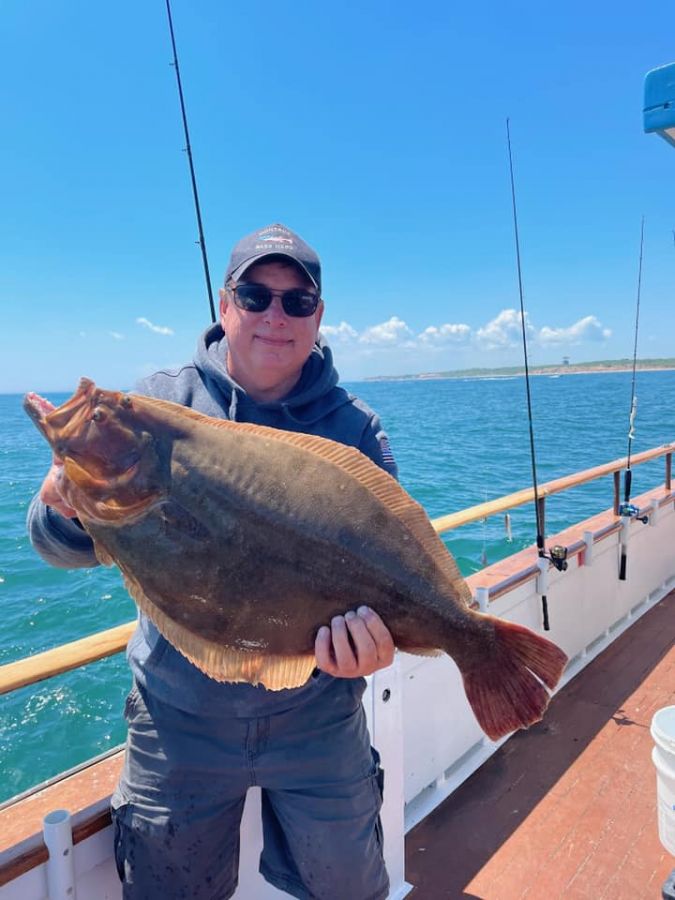 Captain Jake reports the 6 hour Doormat Hunt was somewhat successful. We had a plethora of shorts and Jumbo sea bass (released unharmed) to keep it lively most of the trip and had a few keepers in the mix. Definitely a more aggressive bite than last week. However doormats were the goal and Capt. Jake found one. Capt Tom Mikoleski of The Grand Slam charter boat nailed a 9lber on light charter boat tackle!!! Chris H. from Farmingdale took the pool with a 3.4lber. Double D Danny had double digit shorts and a 20" keeper. Little Ant caught his largest sea bass ever at 5.25lbs.
---